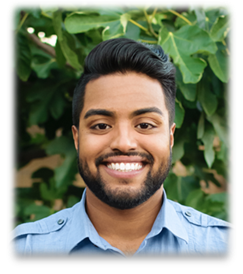 Meet our Lead Pastor, Freddy Chacko!
Born in New York and raised in Chattanooga TN, Freddy has been deeply involved in the work of the Kingdom since 2013, serving in various capacities including Director of Operations at Hope City Church in Chattanooga and as Associate Pastor at Grangeville Christian Church in Grangeville, ID for three years. Freddy earned a Master of Divinity from Fuller Theological University in 2017 and a Master of Art in Intercultural Studies the following year. He and his wife Denise have two beautiful daughters.
If you would like to reach him with prayer requests or a need for pastoral care, please call the church office at 937-642-1009 during office hours, or email him at pastorfreddy@vineyardmarysville.org.
Children's pastor, Sue Lee – suzelee56@gmail.com
Youth pastor, Harla Lawson – adminassistant@vineyardmarysville.org
Transitional Leadership Team – This team consists of our current Elder team and three additional leaders from our congregation. Eventually, three months after our new Senior Pastor is installed, we will return to our normal Elder Team format. We are thankful that God does not leave his church without shepherds and we have a great team of leaders who gather every week. Our Transitional Leadership Team provides general oversight and care for our church family. Empowered by the Holy Spirit, these men and women help discern and implement God's direction for our congregation. Unless indicated above, this team consists of volunteer lay leaders in our church.
Our current team: Jim and Sharon McFarlane, Jason Miller, Debbie Case, Shawna Pierce, Sue Lee, and Harla Lawson.