The Sunday Experience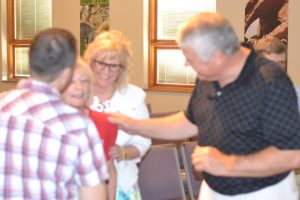 When you come to our Sunday worship service (10:00 AM), expect the following:
Real smiles and welcomes from people who care
Contemporary worship songs led by our band
Relevant Bible teaching that strengthens the heart
Experiencing the presence of God, with a growing sense of being loved!
Quiet, confidential prayer with trained prayer ministers (optional)
An opportunity to take communion together (twice a month)
Coffee and conversation
Nursery (birth—2 years): We love kids! During the worship service, this room is provided for your children at the back of the sanctuary. Parents can still watch the service on a TV screen in the nursery, and return to the sanctuary as needed.
Preschool Class (ages 3-5): Parents generally sign in their children for this class upon arrival.  The class, led by our trained teachers, takes place during the entire worship service. The children have fun singing songs, doing crafts, and learning great Bible stories!
Children's Programming (ages 6 – 5th grade): Children from kindergarten through fifth grades go to these downstairs classes, with very qualified teachers.  They will begin with their parents in the sanctuary and then head downstairs during the announcement time, immediately following the singing portion of our service. This time includes a large group teaching, small group breakout to affirm and discuss the lesson, an activity and time for prayer.
Middle School (6th – 8th grade): This year, we began a middle school class that meets every Sunday in the library/conference room. The teachers love middle schoolers! We desire that they learn the great Bible stories and grow in a close relationship with the Lord! The middle school group will begin in the church sanctuary and head downstairs after the worship and singing time.
High School Class (9th – 12th grade): Our high school class meets in the youth room during the 1st and 3rd Sundays of every month (basically every other Sunday). We encourage our youth to get involved in all aspects of the worship service. We currently have youth that play instruments on the worship team, help with media ministry, serve communion, etc.  The kingdom of God is advancing through our young people! For more information about our youth, see the youth page on this website.  Click here for more information about youth
Small Groups
In addition to gathering for Sunday worship, our church values small groups that meet throughout the week. Many of these groups meet in homes. Small groups of this nature are the meat and potatoes of any vibrant body of Christ.  While we encourage weekly attendance in our Sunday services, the real "meat" is found in the relationships forged in small groups.  Let's do life together! For more information about our groups, click here for more information.